Previously we have introduced the story that binds man to the use of leather and the necessity of tanning to avoid decomposition.
Why does natural leather no longer decompose after the tanning process?
The woody materials that are used in vegetable tanning are rich of tannins. The tannins are phenolic substances that bind to the collagen proteins of the leather and cover them. In this way the leather becomes more resistant to bacterial attacks and thus increases its lifetime.
The action of tannins modifies the natural leather that after the veg-tanning process becomes more resistant and takes a brownish color.
The dark or the light shade of the leather and its nuance (usually reddish) depends on the types of tannins (and therefore of the plants) that have been used for tanning the leather. Tannins are also a natural element and are subjected to change over time, so natural leather can change its appearance over time.
Anyone who has bought and worked different types of leather, will have noticed that some leathers are hard and others are soft, what does it depend on?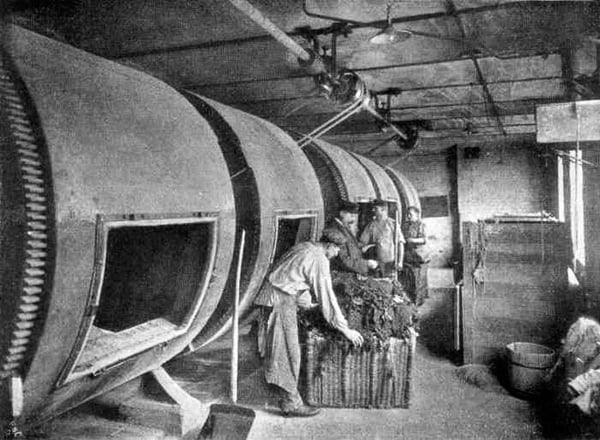 The tanning of natural leather can be more or less rapid, depending on the time that the leather passes in the tanning process: the degree of softness of the leather derives from it.
The traditional methods are known as slow tanning, where the leather remain immersed in a solution of water and tannins for about 30 days, and the final result is a dense and not very malleable leather. Usually this type of leather is used for traditional craftsmanship.
In the modern era, drum was included in the tanning process. The tanning drum is a barrel that rotates around its central axis where leather is placed together with water and tannins. This process is complete in about 36/48 hours and the result is a much more flexible and soft leather, that it's usually used for the leather goods production.
At the end of this phase the leather can be colored using the appropriate leather dye and possibly subjected to further finishing processes, to improve the technical characteristics.