1 minute reading
Nowadays, the wellbeing of our planet is one of our priorities. We keep struggling to help our planet to feel better and is really important that everyone do their part.
Doing your part in dyes and paints world is not so easy but we have decided a long time ago to switch from alcohol based dyes to water based.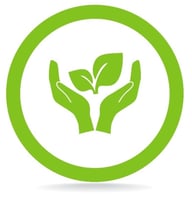 Respecting the planet and be Eco-friendly is one of our first concerns right now.
Now, let's talk about how water based leather dyes are made.
The water-based dyes are made of a complex mixture: usually in the formulation there is a resin (or a mixture of resins of acrylic or polyurethane origin): the resin guarantees the impregnation of the leather fibers and the coupling of the coloring substances to them. Moreover, in the formulation additional components such as wax, grease or oils may be present. This type of substance is necessary for maintaining the softness of the leather or to increase some characteristics such as polishing.
The penetration of water-based leather dye is therefore more difficult and the drying time is slower than the alcohol based, but on the other hand this allows you to have a greater color bonding and maintaining the original softness of the leather.
To resume the main features of a water-based leather dye:
Slow penetration
Slow drying
No Smell
Good color consistency
Good resistance to color rub-off
Maintaining of original leather softness
Do you prefer alcohol or water based dyes?