The iridescent gloss is one of our best effect in our opinion. It is something we released in 2018 but it is still quite trending.
Have you ever tried this effect?
By writing this article we want to know from you if this item is still cool and trending in the l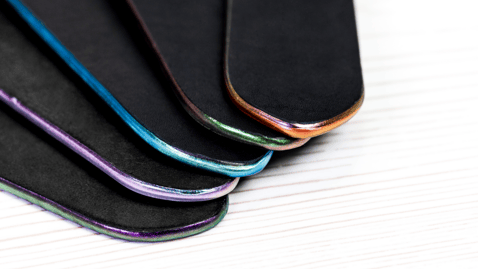 eathercrafting world.
Now, this particular edge paint is available in 4 iridescent colors, not 5 as it was in the beginning. These colors change their shades depending on how the light reflects on the leather edge.
Here the 4 Iridescent Gloss colors:

- Green/Violet
- Violet/Green
- Green/Blue
- Green/Bronze


During the application phase it has a greyish appearance but once dry, the paint remains completely transparent, keeping the fine iridescent powders incorporated thus giving a uniform shiny color all over the edge.
To obtain the Iridescent effect it is always necessary to apply a black paint as base, in order to enhance the visibility of this effect.
TIP FOR YOU:
Do not stir the bottle too strongly because that could create bubbles inside the paint and compromise the final result.
Once dry, the Iridescent Gloss presents excellent elasticity and a great adhesion, which guarantee a high quality and long lasting finish.
On this link you can see how to apply this paint: VIDEO - IRIDESCENT GLOSS
So what do you think? Is this something you would like to apply on your leather edge?
Let us know in the comments.