"Hello Rachele,
can you help me choose the perfect color for my needs? "
This is a question that you have asked me so many times, and today I want to help many people as possible to choose the right color.
When we talk about color there are some basics things to remember. Note that the colors you see on your computer screen are approximate, due to the light of the device. Colors can also be a little bit different on a paper color chart and on a leather item. Lastly, remember that color needs light, and the nature of the light will alterate the appearance of the color.
Obviously, the best thing to do is try first hand the color on the item you want to dye.
So that is pretty clear for you and for us that is not very easy to choose a color from our e-shop or from the color chart.
Here some examples: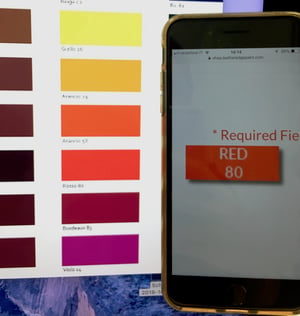 For the fist example we have chosen the Red 80.
This photo shows that Red 80 can be different in 2 different screens and with 2 different level of brightness.
So it's never easy to choose a color from screen but it's also not easy for us to advise you with a color that matches the one on the pic you have sent us.
For the second example we want to show you Red 80 on a leather edge and a Red 80 on a paper Color Chart. As you can see there are small differences on these shades of Red. In this case this is due to the different base color that we have on a white paper and on a leather item.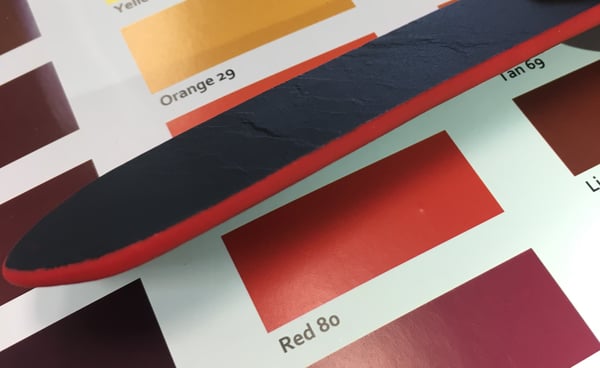 We have made these examples just to let you know that there are a lots of factors that can influence a color shade, but you can always adjust it and create the colors on your own with the Mixing Color Guide.
The Color Chart is perfect for a new project or for some inspiration. All these shades are great to get some brilliant ideas. For example the Cart will be great if you have a black or brown leather items and you want to spice it up with some vibrant colors. ( i.e. Black leather and Red edge )
Indeed, if your goal it it to exactly match the edge with the leather item we have created a service called CUSTOM COLOR SERVICE. To create that shade we need a piece of reference or a specific pantone TPX code and we will make it for you.