In a world full of great leathers with almost no imperfection there are some that aren't the best to work with.
To avoid any waste, let's see together how to get the best out of a cheap leather.
Do you know how?
Is Important to say that this type of leather is the best to practice on. You can do your exercises and don't feel guilty if you make some mistake.
Here some common problems with the solutions we have found.
PROBLEM n°1
HOLES, SCARS, AND FOLDS

Solution: Any piece of cheap leather is going to have these issues, but you can go around that and create, for example small leather items with no imperfections. If you're creating something small like a key chain, it's easy to cut around these defects. If you want to make something larger, like a bag, you need to get a bigger cut of leather.
When you're inspecting the leather, prior buying it, make sure there is enough distance between the blemishes to fit the pieces of your project.
PROBLEM n°2
TOO STIFF
Solution: There are ways to reduce this issue, but just know that even with care you can't make this leather super soft and extremely flexible. It's more like, it was once really stiff and now its just a little bit stiff. Putting oil on the leather prior sealing it with a wax cream will help loosen it up.
Don't be afraid to be generous with the oil. Depending on the leather, it will take a decent amount of oil to start seeing results. Just make sure to apply it evenly because it can make the leather a little bit darker.
PROBLEM n°3
MESSY UNDERSIDE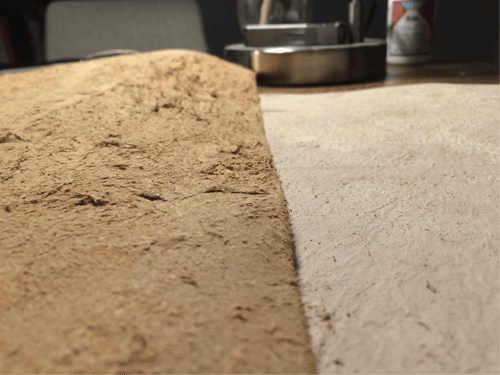 Neither of these would be considered high quality leathers, but you can tell the one on the left has messier fibers. Make sure to matte down the fibers in both situations.
Solution: On really nice pieces of leather none of the fibers on the underside will be sticking up, but on cheap pieces of leather that is not the case.
To try to fix this problem, just by using a burnishing tool and run it back and forth across the back of the leather with gum tragacanth to matte down the fibers. This is the only thing you can do to make it better.
These are just some of the things you can do for a cheap leather, but I know there are more tips out there on how to work with this type of leather. If you've come up with any, or heard of something else, please share them in the comments below. >