NEW LEATHER EDGE PAINT: DULL
If you are a leather craftsman, you know how essential it is to have the best tools and materials available to create high quality work. That's why we are excited to introduce you to our latest innovation - the DULL 2023 Dye Paint.With our ongoing dedication to meet the needs of our customers, we have developed this revolutionary paint that will change the way you approach your work.

Find out more about this product:

The Art of Believing in Leather Craftsmen
For years, our work has been driven by a desire to closely listen to the needs of leather craftsmen and to find creative solutions to help them achieve outstanding results. This has driven us to develop a paint that offers the utmost in versatility and quality.
DULL 2023: Innovation
Thanks to the latest introduction of new raw materials, our research team has created the DULL Leather edge Paint. This paint is the perfect balance between the two traditional coloured paints (Dense-Basic), offering intermediate characteristics that will meet your needs exceptionally well.
Unmatched versatility
DULL's strength lies in its ability to adapt to a wide range of rib thicknesses. On thin edges, down to one and a half millimetres, DULL can be applied directly, without the need for a basecoat, guaranteeing a very high quality edge. In essence, the results are comparable to those obtained with denser edge coatings.
If, on the other hand, you have to work on thicker leather edges of more than 1.5 or 2 millimetres, DULL can be applied on top of the Basecoat, while still ensuring a uniform, high-quality edge.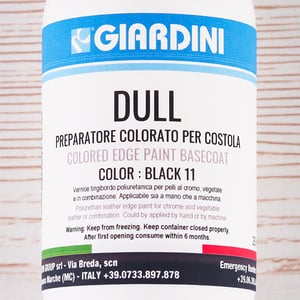 DULL - The Paint that Transforms Your Creations
DULL Edge Paint is available in the full range of GIARDINI colours and in various packaging to perfectly suit your needs. With DULL, you have a trusted ally for your leather creations, giving you plenty of flexibility in the creative process.
Choose innovation. Choose DULL