This is the first part of a series of articles on the history of a world famous luxury brand: Chanel

In this initial part we want to tell how it all started and especially by whom. A woman who became a legend, Coco Chanel.

She was neither a designer nor a seamstress, but she was able to reinvent women's clothing starting from what she wore and becoming herself the manifesto of a free and independent femininity. Her style, from the little black dress to the round of pearls, is as iconic today as it was yesterday.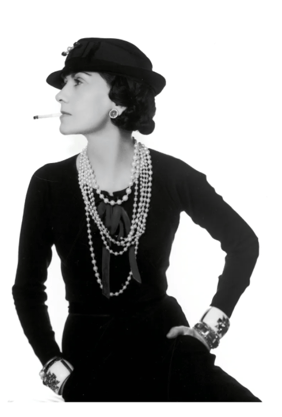 Gabrielle Bonheur Chanel is born on August 19 and one day the world will call her Coco Chanel. An unfortunate childhood due to the premature death of her mother, abandonment by her father, the years in foster care of the Sisters of the Sacred Heart, in Aubazine. Surrounded by women dressed in austere
clothes, strictly black and white with a rigorous architecture. It is here that Gabrielle begins to become Coco: opposing colors and the severity of lines will, in the future, be the distinguishing feature of her style.
She was the first to liberate herself from the frivolities of the Belle Époque, focusing on linear and enveloping shapes such as pants sewn onto the body, the beauty of simplicity with the "little black dress" and the practicality of a jacket/pants suit. All garments with which to tackle the world head-on, enjoying one's own proud and unique personality, always different, always beautiful.
The turning point came when Gabrielle met Étienne de Balsan, son of textile entrepreneurs, who invited her to move to his castle in Royallieu. Their relationship lasted six years and proved to be more than fortunate for the designer: Étienne was not only a lover, but above all her first financier. Coco is very good at creating hats and soon all the women fall in love.
This success pushed her to move to Paris in 1908 and then to Deauville where, in '14, she opened her first store. Fashion at the time was still closely linked to retrograde concepts: corset and crinoline. Thus, Chanel, always against the tide and revolutionary, began to offer sporty models with simple, soft lines.
In 1916, Rodier, a French textile industrialist, gives her exclusive rights to jersey, a fabric that proves to be the best interpreter of her creations. The combination of skirt, pullover and cardigan thus becomes the first distinctive Chanel design, made in gray, beige and dark blue, as well as, of course, black and white, the emblem of her style. But it is in 1920 that the consecration takes place with the opening of the first boutique in Paris. He also created his first and famous perfume, Chanel No. 5, a timeless fragrance that, even today, is considered one of the best ever conceived.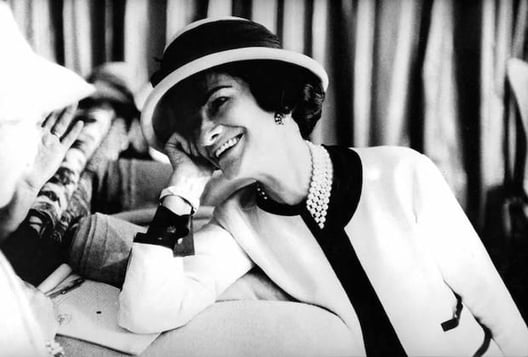 In the 20's she brought to light a simple garment that will allow every woman to feel elegant: "little black dress". Carrying forward the concept of one of her most famous quotes: "fashion passes, style remains".
Obviously Coco did not stop with clothing but also focused on jewelry and accessories such as the famous Chanel 2.55 handbags.
A simple, elegant and above all timeless style.