A Festive Palette: Transforming Leather Craft for the Holidays
The holiday season is upon us, and at [Your Company Name], we're thrilled to unwrap the magic of Christmas with our specially curated leather edge paints in enchanting festive colors. From the classic elegance of red and green to the shimmering allure of gold, our collection is designed to infuse the spirit of the season into your leather crafting projects.
Rediscover Tradition with Classic Red
Red, the timeless hue of joy and celebration, takes center stage in our Christmas collection. Picture the richness of "Crimson Cheer" adorning your leather goods, adding a touch of tradition and warmth. Whether you're crafting personalized gifts or festive accessories, this classic red brings an air of sophistication and holiday charm to every stitch.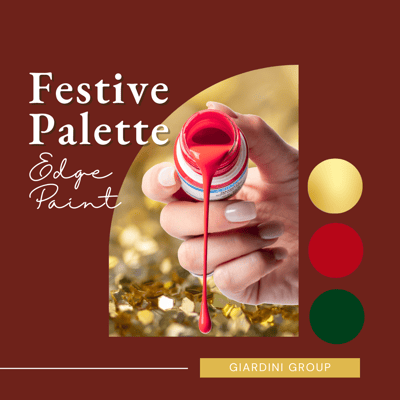 Embrace the Elegance of Evergreen
Capture the essence of winter's beauty with the deep, evergreen tones of "Evergreen Enchantment." This timeless shade brings a touch of nature-inspired elegance to your leather projects.
Illuminate Your Creations with Golden Glitz
No holiday palette is complete without the dazzling radiance of gold. Our "Golden Glitz" hue adds a touch of opulence to your leather creations, creating a captivating interplay of light and texture.
To get you even more in the X-mas mood, we have created a 'Festive Palette' for your edge paint. What does this palette consist of?

BASECOAT: 250ml of our unfailing BASECOAT DENSE
COLORS: BASIC 125ml of Red G1035 and Green G1075
GOLDEN GLITZ: 125ml METAL GLOSS GOLD & BASIC OCHRE 125ml as color base to get the Golden Effect.

Crafting Memories, One Festive Creation at a Time
This Christmas, go beyond the ordinary and infuse the joy of the season into your leather crafting projects. Create personalized gifts that become cherished memories, design accessories that stand out at holiday gatherings, and craft festive décor that transforms your space into a winter wonderland.
Order Now and Craft the Magic of Christmas
Transform your leather crafting experience with GIARDINI's festive leather edge paint palette. Dive into the holiday spirit with the timeless charm of red, the elegance of evergreen, and the opulence of gold. Order now, and let your creativity shine as you craft the magic of Christmas.