In this second part of the article about the great designer Valentino, we want to understand how this brand color emblem, Red Valentino, spread.
Legend has it that Valentino Garavani was thunderstruck by this color at a young age when he was at the opera house in Barcelona. The memory of those strong and majestic characters, all dressed in red vermilion, made him understand the virtues of this color and above all the impact it has on people.
Since his fist fashion show, which took place in the early 60's at Palazzo Pitti, the attention was drawn to the use of a bright color, destined to make history.
From that moment the color will be called Red Valentino. A shade between carmine, purple and cadmium, a bright red which has fascinated women for more than 50 years from crowned heads to common women.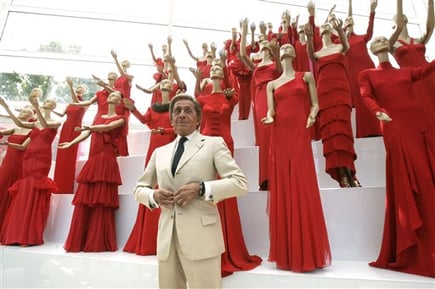 Showy but at the same time never excessive. So now, choosing a Valentino red dress means distinguishing oneself from others.
Like Orange for Hermès, Red Valentino is a trademark that has changed the course of fashion history and of the Maison as well.
This is the unmistakable Valentino's signature.